Our Staff: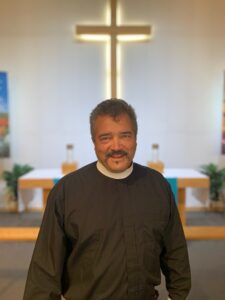 Pastor Bradley Felix
Pastor Brad has served in Lutheran ministry since 1988 beginning as an Administrator-in Training (Ellis, KS) with The Evangelical Lutheran Good Samaritan Society to later serve as Nursing Home Administrator in New Underwood & Clear Lake SD and finally in St. Ansgar Iowa, where he became a Member of the Lutheran Church-Missouri Synod. Soon after, Brad and family moved to St. Louis, Missouri where he attended Concordia Seminary St. Louis and graduated in 2005. Brad's 1st call was right here at Trinity Lutheran Church, Virginia MN and also serves as Pastor at Grace Lutheran Church in Chisholm, MN. Brad has 4 (awesome) adult children and three grandsons. Brad enjoys most all kinds of music, traveling, motorcycle riding, fishing, and frequent visits to his mom in South Dakota
Trinity Secretary Patti Papin
Music Ministry Coordinator: Betty Mowrey
Custodian: Jim Glasgow
Council Members 2021-2023
President: Jason Akerson
Vice President: Steve Papin
Elder: Rob Thomas
Trustee: Kevin Matts
Secretary:
Treasurer: Cathy Rouleau
Fellowship: Jane Puzel
Stewardship:
Evangelism:
Amazing Grace:
Amazing Grace Team: Clint & Vicki Hanson, Tammy Sederlund & Marla Norvitch
Amazing Grace, Praise & Worship team leads the congregation in singing contemporary worship songs the 2nd Sunday of each month.